Sizing Charts
Description
S
M
L
XL
A
1/2 chest width
49
52
55
58

measurments in

cm
B
1/2 biceps
18
18,5
19
19,5
C
sleeve lenght
19,5
20
20,5
21
D
lenght back
65
67,5
70
72,5
A
1/2 chest width
19,29
20,47
21,65
22,83

measurments in

inch
B
1/2 biceps
7,08
7,25
7,48
7,67
C
sleeve lenght
7,67
7,87
8,07
8,26
D
lenght back
25,59
26,57
27,55
28,54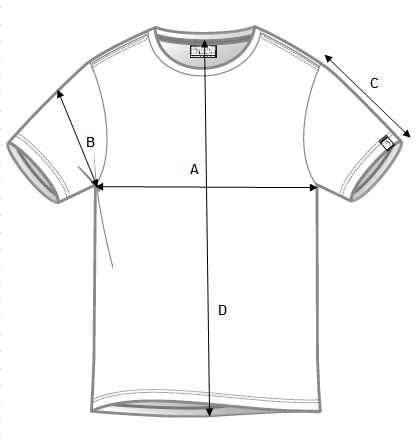 Please note this is for reference only.
Always read the care label and washing instructions and dry garments as stated in these instructions. Don't tumble dry garments unless stated on the care label.
Wash similar washcare garments together i.e. whites, darks and colours. Make sure you use the correct washing temperature, If you are unsure, always wash at a lower temperature. When hand washing clothes rinse well until the water runs clear.